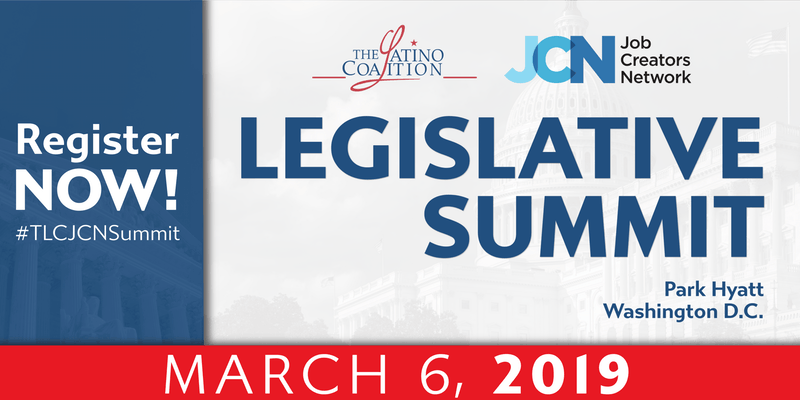 The Latino Coalition (TLC) will host its 2019 Legislative Summit in collaboration with Job Creators Network (JCN) at the Park Hyatt Washington, D.C. The highly-anticipated event will bring together hundreds of entrepreneurs, executives, and elected officials to discuss the public policy issues that matter most to Hispanic business owners and leaders.
The Latino Coalition is the nation's leading nonpartisan advocacy organization representing Hispanic businesses and consumers. Job Creators Network is a nonpartisan organization whose mission is to educate employees of Main Street America to protect the 90 million people who depend on the success of small businesses.
Don't miss the opportunity to network at this very special event!
Agenda:
Time: 7:00a.m.-7:45a.m. Breakfast & Registration
Time: 8:00a.m.-8:45a.m. Opening Session
The Small Business Economy: America's Resilient Foundation
Independent businesses have once again emerged as the unique, underlying strength of the world's largest economy. When markets let us down, small businesses lift us up and create the jobs America needs. An overview of what's going right for small business will set the stage for the legislative summit.
Hector V. Barreto, Chairman & CEO, The Latino Coalition
Alfredo Ortiz, President & CEO, Job Creators Network
William Hurd, U.S. Representative, 23rd District of Texas
Gil Cisneros, U.S. Representative, 39th District, California
Michelle Christian, Mid-Atlantic Regional Administrator, U.S.
Small Business Administration
Tony Cardenas, U.S. Representative, 29th District of California
James E. Campos, Director, Office of Economic Impact and Diversity,
U.S. Department of Energy
Matchpoint Procurement Presentation: Jeff Vigil, President & CEO,
My Business Matches
Speaker: C.J. Mahoney, Deputy U.S. Trade Representative
Speaker: Ted Cruz, U.S. Senator for Texas
Time: 9:30a.m.-10:00a.m Trade Agreement Panel:
Time: 10:00a.m.-11:00a.m Small Business Panel:
The Tax Cuts One Full Year Later: Effects on Small Businesses and Workers
This panel will feature small business owners who will share how the Tax Cut and Jobs Act affected their business and their employees. Job Creators Network staff will also participate, giving the macroeconomic view of how the tax cuts impacted the overall economy, investment, wage growth, and tax receipts.
Speaker: Alfredo Ortiz, President & CEO, Job Creators Network
Speaker: Debbie Brown, National Women's Coalition Director, Job Creators Network
Moderator: Elaine Parker, Chief Communications Officer of Job Creators Network
Panelist: Alfredo Ortiz, President & CEO, Job Creators Network
Panelist: Dina Rubio, Owner, Don Ramon
Panelist: Nicole Wolter, President, HM Manufacturing
Time: 11:10a.m.-12:00a.m. Capital Access
The Lifeblood of Your Business: Access to Capital
Regardless of size, every business needs capital to start, operate, and expand. Options for borrowing or raising the capital you need are greater than ever before and choosing the right lenders or investors will be determined by a myriad of factors, from type of business to cash-flow needs and plans for the future. Panelists will talk about the most cutting-edge approaches to accessing the capital you need to grow your business.
Moderator: Ruben Barrales, Senior Vice President, Wells Fargo
Panelist: William Manger, Associate Administrator for the Office of Capital Access, U.S. Small Business Administration
Panelist: Regina O. Heyward, Senior Vice President and Head of Supplier Diversity, Wells Fargo
Panelist: Elvira Valenzuela, Vice President Corporate Development & Legislative Affairs, East West Bank
Time: 12:15p.m.-2:30p.m. Luncheon
Is Government Listening to Small Business?
Small business doesn't always get the attention it deserves, but leaders in Washington are pursuing policies that indicate there is a growing appreciation for this critical half of the American economy.
Hector V. Barreto, Chairman & CEO, The Latino Coalition
Alfredo Ortiz, President & CEO, Job Creators Network
United States Secretary of Energy Rick Perry
Jennifer Korn, Special Assistant to the President and Deputy Director for the Office of Public Liaison
Ambassador of Mexico to the United States, Martha Barcena Coqui
Peter R. Villegas, Vice President of Latin Affairs, The Coca Cola Company
Pepe Estrada, Director of Public Affairs, Walmart
William Connolly, COO, WellMed Medical Management, Leadership Award
Vicente Fernandez, Lifetime Achievement Award
Time: 2:30 p.m.-4:00 p.m. Networking & Refreshments
Parking
Valet Parking: $30.00/per car for event parking.
Overnight Parking: $52.00/per car overnight.
Hotel Room Block Link
As a quick reminder, the Cut-Off date is February 15, 2019 by EOD EST. All reservations after the cut off date will be subject to availability.
How can I contact the organizer with any questions?
Please email events@thelatinocoalition.com.